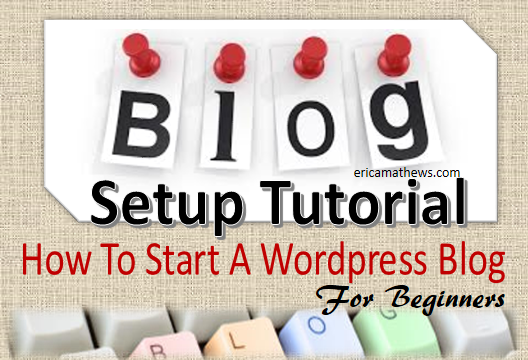 **DIY: WordPress Blog Setup Tutorial For Beginners**
Helping You Setup Your WordPress Blog From Scratch
Are you new to blogging and will like to setup a blog for your business? Setting up your own blog is not as hard as you may think. In this tutorial, I will be guiding you step-by-step with 3 Basic Steps to Getting Your WordPress Blog Setup and Running Quickly. Following these basic steps should have you up and running in no time.  You must complete each step completely before moving on to the next step.  
There are many blogging platforms out there, but I recommend and has built my online businesses using WordPress.  Before we get started, here are reasons why I recommend using WordPress as the platform to build your platform online and brand yourself.  Also, reasons why you need a blog to grow your business.
Reasons you need a blog for your business: (also read: 5 Reasons You Need A Blog)
Blogging is a great way to engage your existing contacts, as well as reach a new audience.
As a business owner, one of the most valuable asset for generating traffic and leads is your blog.  Your blog will position you as a leader in your industry, showcase your value to your target audience and give you a platform to build relationships with your audience.
Builds your brand and credibility.
A great way to get your message out to the world.
Build a list of potential clients and customers.
Why I recommend that you build your platform using WordPress.org:
With WordPress.org blog, you host and own it 100%.  You will have complete control and flexibility to maintain, upload content, images and videos.
WordPress is simple to use and can be used for traditional websites and blogs.  No coding experience necessary.
You want to beware of using free sites to build your websites because you will not own your content.  If something happen to those free sites or they decide to shut down, there goes all of the content you worked so hard to produce. Having a self-hosted blog is most definitely the way to go.  
So, start building a strong foundation online from the start by using WordPress.org.
Let's get started….
Blog Setup Tutorial: 3 Basic Steps to Getting Your WordPress Blog Setup and Running in Minutes
Step 1:  Register Your Domain Name & Setup Website Hosting Account
Step 2:  Install WordPress On Your Domain
Step 3:  Blogging Tools -Design Your Blog Using Themes & Plugins 
The following two tabs change content below.
Founder
at
JAZZY UNLIMITED ENTERPRISES
Erica Mathews is an entrepreneur, business coach & founder of Jazzy Creative. She works with business owners to leverage social media & online marketing tools to grow their business & brand online.