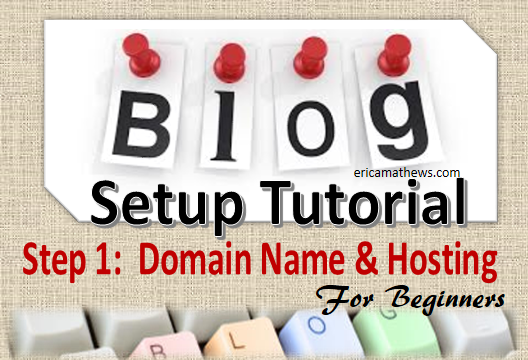 Step 1:  Register Your Domain Name & Setup Blog Hosting Account
"Blog Setup Tutorial for Beginners"- 3 Step
Domain Name
What is a Domain Name?
A domain name is your website address online.  This is where people will find you on the internet.
Example:  www.yoursite.com
Tip:  Try to choose a domain name that is memorable, easy to spell, and that is relevant to what your business is about. Your domain name will represent your brand.
After you have decided on a domain name, go to GoDaddy.com to search whether your domain name is available.
Register your domain name at

GoDaddy.com

. (Don't forget to keep a note of your username & password)

Go through the short setup process. You pay a yearly fee for your domain.  You can register for 1 year or several years at a time. You can get domain names as low as $3.99, but the prices may vary depending on whether you choose directories such as  .com, .net, .info, .org, .biz. My 1st preference is to use .com with my domain names. But this is a personal choice depending on what kind of company or organization you have.  Think long term. Do your research 1st and choose wisely.
Setup Website Hosting
What is a Hosting Account?
A hosting account is your server space online.  It's where your website will live.
You pay a monthly fee to have your website files and database hosted.
Note:  Although there are several different providers out there, I recommend the hosting services that I currently use and is the most familiar with, like and trust. I recommend Hostgator.
After you have purchased your domain name, now it's time to get hosting.
Purchase server space online at

Hostgator.com

Hostgator will send you a receipt of your payment via your email.  Inside the email will be a list of your

Name Servers.  Example:  NS123.HOSTGATOR.COM and NS124.HOSTGATOR.COM.  (You will need the nameservers to link your

hosting account and domain name).
Link Domain Name to Hosting
Log into your GoDaddy account. Click on the domain name that you purchased. Scroll down to the section that says NameServers and enter the 2 NameServers that Hostgator provided you in your email payment confirmation.  Click save/update.
It may take a few minutes for GoDaddy to link both your domain & hosting accounts.  Normally, there will not be an email notification to inform you that the process has been completed.
So, continue to Step 2 -Install WordPress .

I have found customer service to be very helpful with these 2 companies,,, you can reach them here for questions…
GoDaddy -480-505-8877
Hostgator – 1-866-96- GATOR (42867)
Next Step:  Install WordPress 
The following two tabs change content below.
Founder
at
JAZZY UNLIMITED ENTERPRISES
Erica Mathews is an entrepreneur, business coach & founder of Jazzy Creative. She works with business owners to leverage social media & online marketing tools to grow their business & brand online.