Pinterest is a great marketing tool to build and grow your business. Not only is Pinterest a great platform to get more visibility, but it's a great place to discover new ideas for content. When used properly, Pinterest can be an amazing tool in your social media strategy to generate traffic and leads. Giving your business more exposure and known for your expertise.
Are you using Pinterest to grow your business?
Fun Facts:
 70% percent of users are on Pinterest to get inspiration on what to buy, compared to Facebook 17%
Over 80% of all pins are repins
Pinterest users are nearly twice as likely to purchase than Facebook users
Pinterest sends more traffic to websites than Youtube, Google+ and LinkedIn combined
So, how can Pinterest help you in your business.
Here are Tips on How to use Pinterest For Business 
To setup your Pinterest business account,  go here to setup your profile. Be sure to verify your website so that you will have access to Pinterest Analytics.
Organize Your Pin Boards
People organize pins into collections called boards, and share their boards with others.  When it comes to using your boards as a marketing strategy, the point will be to use your boards to attract your target market and to encourage them to follow you on Pinterest.  Highlighting everything that you have to offer. It will be a good idea to categorize and highlight the first 2 rows of your pin board with content that helps your target market. This way when someone click on your profile, they will immediately see what your business is about. Make your Pinterest board user friendly and easy to search.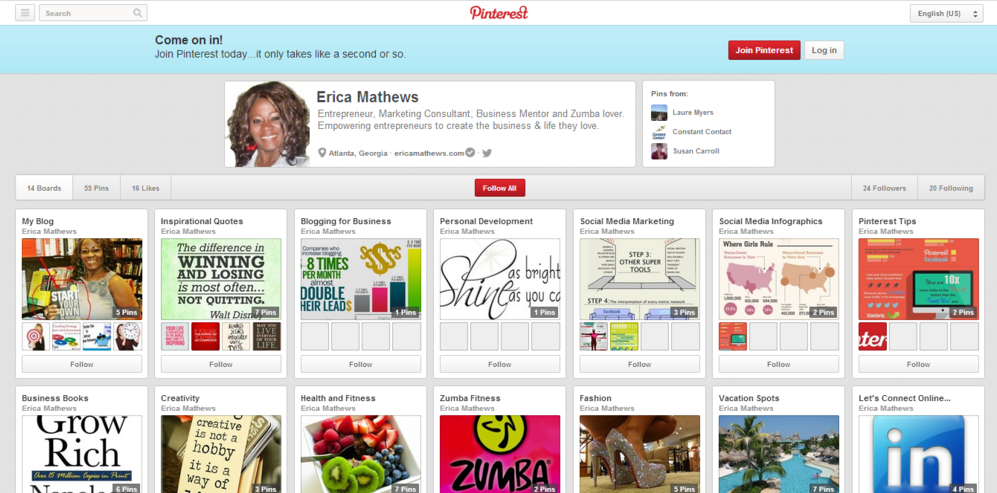 Create boards that can inspire your audience.  Instead of just pinning boards full of your products and services, create Pinterest boards that inspires your audience. Use your boards to show your values, personality and taste.
Add the Pin It Button to your site
A pin it button makes it easy for people to pin from your website.  This makes it easy so that visitors can easily share your content. When you install the pin it button on your site, you can quickly and easily pin your content to your pin board.
Choose Your Pins Wisely
Pin quality content that you think will interest your target audience.  The things you pin is a representation of you and your business. You don't have to create all the content that you pin on Pinterest.  Pin and share other useful information that will add value to your target audience.  Pin great photo content and images that inspires your audience.
Example: I named a pin board "My Blog Post" and one of my brand names "Jazzy Creative".

Drive Traffic To Your Site
Are you interested in getting more traffic to your site? Then consider using Pinterest as a go to tool. Share images from your blog post.  The images you use in your blog articles can also be pinned to Pinterest.  (first, check for image sizes -all social media platforms are different) Showcase your best content and tutorials. An interesting image leads to more clicks, which leads to more traffic to your blog.  Don't forget to add the URL link to your images and videos.  Also, share your pins across other social networks.
Create Interesting pins
Like Instagram, Pinterest is designed around images and photos. Add text to the images you create for your blog post. Using this strategy will help the person viewing it on Pinterest to immediately know what your post is about. The words you use should grab the attention of your target market and create enough interest that the person decides to click on your article.
Use Hashtags & Pinterest Analytics
Pinterest is Hashtag savvy. To be searchable, use hashtags in your description.
Using Pinterest for Business also comes with a feature to track your Analytics.  Pinterest Analytics shows you which pins are most popular with pinners and which ones are driving the most traffic to your site. You can also see what pin boards your images appears on, how the pins are described and what people pin along with your images. Using Analytics will help you with your pinning strategy.
Use A Call To Action In Your Description
Enter a title that describes your image and a detailed description. Then add a call to action.  Example: "Click on the link below to receive more tips on How To Use Pinterest For Business".  Enter the website link (URL) to the page you will like people to see. When someone shares and pins your content, that will drive traffic back to your website or offer.
If you are just getting started with Pinterest, here are a few resources to help you get started…
Click here -business.pinterest.com….  then go to the "Getting Started" tab. You will find tons of resources such as Pinterest For Business Guides.  Hope this has been some helpful tips.
How are you using Pinterest for your business? Is it working for you?  Leave your comments below.
The following two tabs change content below.
Founder
at
JAZZY UNLIMITED ENTERPRISES
Erica Mathews is an entrepreneur, business coach & founder of Jazzy Creative. She works with business owners to leverage social media & online marketing tools to grow their business & brand online.