Juggling multiple social media accounts across several networks can get a little hectic. So, using social media tools such as HootSuite can save you a lot of time when using Social Media to build your business.
There are many social media management tools out there, but HootSuite is one of my favorites. Using HootSuite can save time for social media lovers, from community managers, to power-users, to casual tweeters.
HootSuite is a web based and mobile app dashboard that helps to manage your social media profiles such as Twitter, Facebook, and LinkedIn. The HootSuite dashboard is full of features and tools to help you manage social media by bringing your accounts together; all in one location.  Using this social media management tool will save you a lot of time and frustration. Once you are setup, you will not have to go back and forth logging in and out of each of your social media accounts.
My Twitter, Facebook, and LinkedIn are all integrated into this one user friendly dashboard.
You can:
Automate and pre-schedule your messages to go out on a later date.
Manage all of your social media platforms in one location.
Scheduling -schedule your messages, update status post, and monitor conversations.
Analytics -view your social campaigns and track results across your social networks.
Monitor Keywords …..and much more.
Scheduling:
Some of my post and updates are automated. My weekly routine is to pre-schedule my post, tweets and updates to go out on a later date. This is to make sure that I am continuously sharing information related to business, marketing and inspiration.  In between my automated post, I make sure that I personally engage and build relationships with people. Take some time to interact in real time because the whole purpose of social media is to be social.
When scheduling your messages, select the date and time you want your post to go out. Schedule your post and tweets in advance so that you can have time and freedom to do more income generating activities. Free up your time.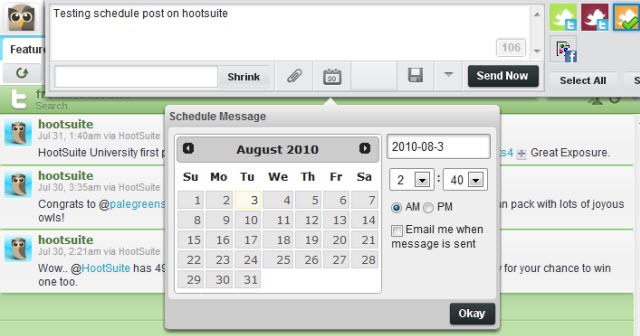 If you are new to Hootsuite, here is "The Beginner's Guide to HootSuite"… http://mashable.com/2013/09/18/hootsuite-beginners-guide/
Go to Hootsuite to sign up for a free account. Before you set up a HootSuite account you must already have existing social media accounts.
(Image: Mashable, Christina Ascani)
Are you using tools to manage social media accounts? If so, share which ones you like best.
The following two tabs change content below.
Founder
at
JAZZY UNLIMITED ENTERPRISES
Erica Mathews is an entrepreneur, business coach & founder of Jazzy Creative. She works with business owners to leverage social media & online marketing tools to grow their business & brand online.