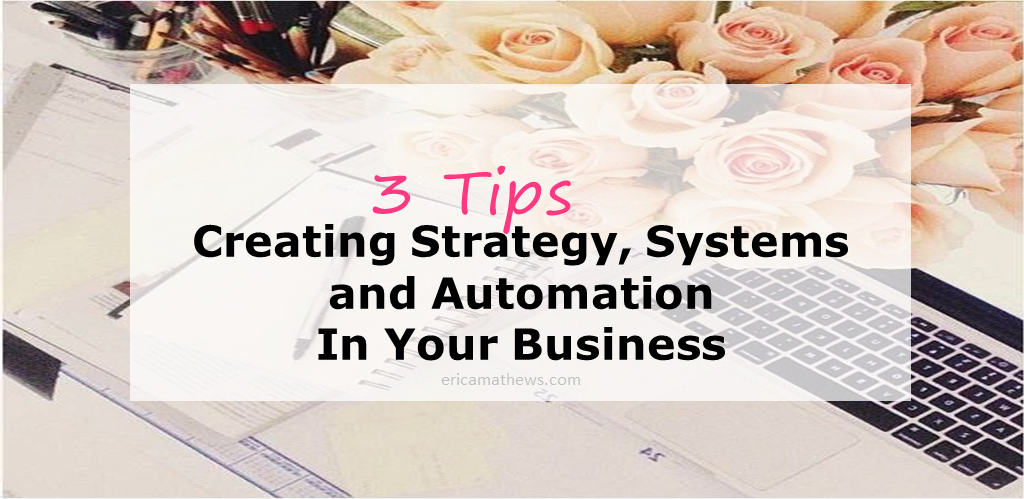 Do you ever say to yourself that you do not have enough time in the day to do XYZ?  Are you feeling overwhelmed and lack of focus with all of the tasks that needs to be done in order to run your business? I know exactly how you may be feeling, because recently I experienced a small shift in my business which caused me to restructure my day to day operations.  Some changes are good as your business grows.  As your business evolve, your strategy should suit your change. So, it's not more time that we need, it's a STRATEGY. Once you have a strategy, system and automation set in place, is when you gain more Time & Freedom!
3 Tips To Creating Systems, Strategy and Automation In Your Business
Tip 1:  Building Your Foundation
Tip 2: Target Market & Your Messaging
Tip 3: Leveraging Technology & Internet Marketing To Build Your Business

Tip 1:  Building Your Foundation
What direction are you going in?  Do you have a blueprint for success in your business?  Ask yourself this question, "Where will my business be in the next 5 years?"
Statistics say that 50% of small businesses fail within their 1st 5 years. I believe that this is due to not having the proper
systems in place, lack of visibility, money and sales.  As a strategic entrepreneur, you must plan for success.  Have a plan that addresses exactly what you want to accomplish.  Set goals which includes your income goals, your mission and your purpose. If you want to make X amount of dollars per month or per year, put together a step-by-step plan to make that happen. I like to set my goals into 90 day increments.  Since there are 4 quarters in the year,….. January, April, July & October are the months that I start my new 90 day blitz toward my goals for the year.
Also, know exactly how your business works to generate income. What are your day to day operations?  This includes your marketing system, your client intake system, customer support and appointment taking systems.  Building a solid foundation for your business will help you stay clear and productive. Achieve the results that you want.
A free tool that I recommend for appointment booking and online scheduling is "Vcita.com" -an automated contact form and scheduling solution.
Tip 2: Target Market & Your Messaging
Before you begin to share your business or brand, frame your message. Grab the attention of your target audience. After you have your message then decide which media you would need to use to reach them.
Get clear on your target audience and your ideal client/customers/business partners.
What market are you going after

Who are you trying to sell to
What products are you offering
What problem are you trying to solve
For example, my target market are people who wants to build a business working from home and create financial freedom.  So, all of my content, advertisements and campaigns are targeted directly to those people, speaking their language.  This is called attraction marketing.  Target people who are already seeking what you have to offer then provide them with a solution to their needs and wants.
To keep a steady cash flow for your business, create products and offer services that will help your target market accomplish their goals.
Here is a formula for How to tell people what you do, who you do it for and the type of results they will get from working with you. Fill in the blank with your own signature sauce…..
I (what you do) for (who you serve) so that they can (master, overcome) their (struggling point) to gain (a huge benefit).
Once you are clear on your message, then your marketing will be much easier.  This leads us to my last tip. Click here to view Tip #3….
The following two tabs change content below.
Founder
at
JAZZY UNLIMITED ENTERPRISES
Erica Mathews is an entrepreneur, business coach & founder of Jazzy Creative. She works with business owners to leverage social media & online marketing tools to grow their business & brand online.