Working from home has many benefits such as more time, freedom and the ability to do what we want -living life on your own terms. But, to build a successful business online, we must stay focused and disciplined in order to be productive.
Do you ever feel that the whole day has gone by and you have not accomplished your daily goals?  You get distracted surfing the internet for hours, checking emails or you even find yourself stuck in learning mode. What about spending tons of time checking your social media news feeds and updates? I absolutely love social media, but if not used strategically during your work hours, it could have you caught up in a wave going absolutely no where, very fast. OK….well maybe that was just me. ~smiles~
6 Simple Ways To Stay Focused and on Track While Working From Home
Schedule Your Work Hours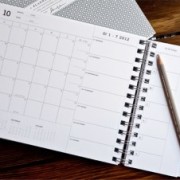 Decide how many days you plan to work and how many hours per day.  True enough, working from home gives you more flexibility. But during the time frame you designate as your work hours, focus on income producing activities. For example, if you choose to work between 9am – 11am with your clients or on marketing your business, then during those times you are not cleaning the house. We have to practice discipline on a daily basis.  I make it a daily habit to buckle down and concentrate during my work hours.
Map Out Your Daily Plan of Action
Each day know exactly the things you do to build your business.  Have a system and marketing plan already set in place before you start your day.  Know how many sales you plan to get that day, how you plan to connect with your prospects, and which strategies you plan to implement.  Never go into your day blindfolded (not having a clear vision of what you set out to do).
Create a To-Do List to increase your productivity. I like to schedule my week on Sunday evenings.  This helps me jump start my day knowing exactly what I will like to accomplish.  Decide which business building activities you need to work on in order to produce the income level that you want.
To PJ's or Not To PJ's -It's Up To You
You may be thinking, what does PJ's have to do with staying focused.  Now, I'm not saying that anything is wrong with working in your PJ's. Having the choice to work where you want, when you want, and how you want is the freedom lifestyle.  But, for me, it makes a huge difference when I change out of my sleeping attire. (When I need to run errands that day, I'm already dressed)  It sets the tone for me to start my day with a productive mindset and ready to work.  Now, of course I do not think that it is necessary to put on high heels or a three piece suit just to walk a few steps into your home office…. at least I don't….but go for what you know. 🙂 The bottom line is to be comfortable, full of energy and focused to work and get results.
Create A Clutter Free Workspace
Get organized. If possible, setup a separate space to work in away from your general living area. Make your environment free from all of the bells and whistles that may possibly be a distraction. I chose not to have the television on in my office during work hours.  To keep me motivated and entertained, I surround myself with uplifting positive music to keep creativity and positive energy flowing.  I have a window in my office that brings in plenty of natural light.  Find what works best for you. Eliminating clutter helps you think clearly and to be more productive.
Listen to Motivational Music or Personal Development CD's
I listen to music that helps me stay upbeat and energized.  I listen to a variety of music that sets the tone for my work day. Sometimes, I may put in a personal development cd to increase my learning when I'm not on the phone with a client.  Create a playlist.
Sportify allows you to download millions of songs for free.  Stay motivated and inspired.
Take Breaks  
Instead of hammering it away for hours at a time behind the computer, take breaks and schedule the times you eat. Yeah I know,,, I know. When working from home, it is super easy to get distracted making several visits back and forth to the refrigerator. Create a schedule that will include the times you take breaks and your lunch time.  This will not only help to stay focused, it will also help keep the muffin tops away.  You can thank me later. 🙂
If your goal is to build an online empire, treat your home business like a business and not just a hobby.  Stay focused while working from home to get the results you deserve.
Now it's your turn. What are some things you do to stay focused and on task working from home? Share your comments below.
The following two tabs change content below.
Founder
at
JAZZY UNLIMITED ENTERPRISES
Erica Mathews is an entrepreneur, business coach & marketing trainer. Founder of Jazzy Entrepreneur and Jazzy Biz Academy. She works with business owners to leverage social media & online marketing tools to grow their business & brand online.
Grab-->Free Resources and Trainings