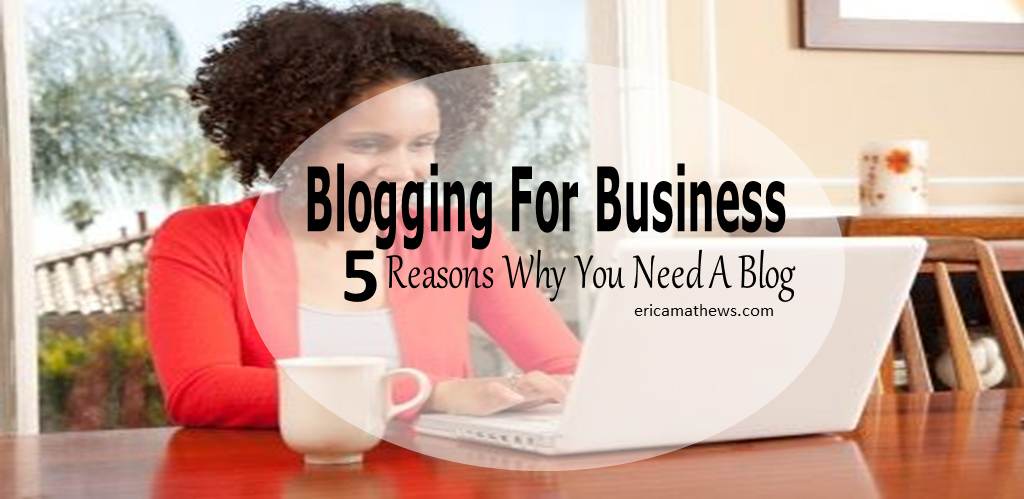 One of the biggest challenges I see new business owners having are questions like…
"Why do I need a blog"?
"How to start a blog"?
"What to say in my blog to engage my target audience, readers and followers?"
Whether you are a business owner, marketer, entrepreneur, or a person that's wanting to build your brand online, one of the most valuable assets for generating traffic and leads is a blog. Blogging is a great way to attract more clients and customers. It's one the most powerful tools and platforms you can use to brand yourself and promote your business online.  Also, blogging gives you a platform to showcase your value….who you are and what you do.
Businesses are connecting with their customers through blogs. Statistics says that companies who increase blogging 6-8 times per month…. doubles their traffic which could lead to more opportunities and sales.  Also, most companies consider blogs useful and it's a critical component in their marketing strategy.  So, in my personal opinion, business owners should use a blog to get their message out the world, add value to the marketplace, and increase their visibility on the web.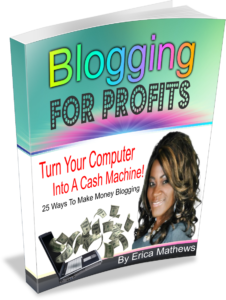 ***Blogging For Profits***
5 Reasons you need a blog for your business
Benefits & what you can achieve with blogging:
1. Personal branding – Your blog sets you apart and allows people to connect with you as a real person.  Design your blog around your personal brand.
2. Authority – A blog helps you to position yourself as an expert in your industry. Writing great content positions you as an authority and the expert in your niche. Build your brand and credibility.
3. Traffic Generation – Your blog can be a very powerful marketing tool that you can use to attract targeted and unlimited traffic.
4. Lead Generation – This is when you turn your traffic into leads, so you can build relationships with and market to them. Use your blog to build a list of potential clients and customers.
5. Make Money – Generating traffic and building a loyal reader base is not the end of it all. Your goal should be to turn that traffic into massive profits if your goal is to make money blogging.  Your blog can be setup in a way to market your products and services…..making money for you 24/7.
Without a shadow of a doubt, there is no better way to turn strangers into loyal fans and customers online than using the power of BLOGGING!
Before you start your blog, there are 3 key questions you need to ask yourself…
1) What are the topics you will blog about?
2) What do you want to accomplish from your blog?
3) Who will your target audience and customers be?
The main key to getting more from your blogging efforts is by knowing and identifying your target audience.  You need to be clear on who you are talking to.
How To Blog
You can blog and provide how to's, tutorials, and information about your products/services. If you are not big on writing, you can do video blogging.  Be creative.  The possibilities are endless when you are creating and building your online presence with blogging. Just remember to focus on your target audience.  Write good titles that will peak interest and grab their attention to click and read your content.
How To Start A Blog
To get your blog started, you can either hire a designer or you can start your own blog.
Blogging Platforms:
WordPress.org
WordPress.com
Squarespace
Wix
Blogger
Weebly
Tumblr
Although there are numerous blogging platforms out there, I recommend that you build your platform using WordPress.org. There is a difference between WordPress.com and WordPress.org.
(But, before you get started, 1st do your research to find the tools and platforms that is a best fit for your business).
***I also heard many great things about Squarespace***
I have been using WordPress since 2011 to build my websites, blogs, and ecommerse stores….. and I love it. You want to beware of using free content management platforms to build your websites because you will not own your content.  If something happens to those free sites or they decide to shut down, there goes all of the content you worked so hard to produce. Having a self-hosted blog is most definitely the way to go. With a WordPress blog, you host and own it 100%.  You will have complete control and flexibility to maintain, upload content, images and videos.
The following two tabs change content below.
Founder
at
JAZZY UNLIMITED ENTERPRISES
Erica Mathews is an entrepreneur, business coach & marketing trainer. Founder of Jazzy Entrepreneur and Jazzy Biz Academy. She works with business owners to leverage social media & online marketing tools to grow their business & brand online.
Grab-->Free Resources and Trainings